1200 Standard 3-Wire Amplified Low Profile ™ Load Cell
Amplified
Prices
Specifications
Dimensions
Documentation
Instruments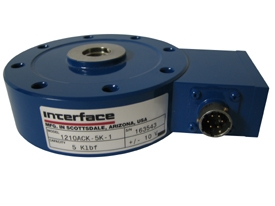 Proprietary Interface temperature compensated strain gages
Eccentric load compensated
Low deflection
Shunt calibration
Tension and compression
Compact size
3-wire internal amp choice of 4-20 mA, ±5V, ±10V, 0-5V, 0-10V
The 1200 Low Profile is Interface's most popular load cell and is designed for static applications. The 1200 has higher output than most competitive load cells and is designed for general purpose applications requiring a load cell compensated for eccentric loads. If you need to measure 1lb or 1million pounds of force, Interface Inc. load cells can do it. The Low-Profile configuration of our fatigue-rated load cell provides up to 100million duty cycles. The gage sensors in every load cell are individually inspected and tested, and certified to meet our rigid standards. Formed from a unique alloy, our gages provide very low resistivity, for high signal;-to-noise ratios for demanding applications.
Our apologies, but pricing information is available only to US customers. We are unable to calculate international prices here.
Please visit our international distributor locator to find the company in your area that delivers Interface product lines. They will give you local prices for your region.